Holyoke Public Library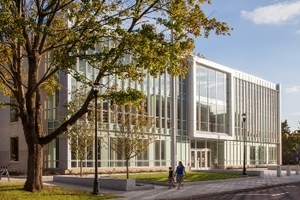 The Holyoke Public Library was founded in 1870 to serve the educational and recreational reading needs of the diverse population of Holyoke, Massachusetts, a burgeoning industrial city on the banks of the Connecticut River. Since 1886, when the one-dollar annual membership fee was dropped, the Library has offered free access to library materials, services, facilities, and programs to residents of all ages. In the decades that have followed, the Library has remained true to the words spoken at the dedication of its imposing new building in the heart of the city in 1902: "You have only to ask here and you will find knowledge to make your life useful and happy."

The core of the historical collection of the Library is comprised of published works of local and regional history, maps, local government documents, and newspapers in the original Library collection. Library staff and volunteers have continued to build the historical collection, which now contains over 1200 linear feet of books, pamphlets, photographs, artifacts, and manuscripts related to the history of the city and its people. The full Local History Collection is accessible to the public at the Library's spacious History Room. Consult the website for History Reading Room hours.